Cancer care in England has faced major disruption during the pandemic with big drops in numbers being seen following urgent referrals by GPs, figures show.
The number of people being assessed by a cancer doctor after referral fell to 79,500 in April – a drop of 60% compared to the same month last year.
Meanwhile, patients starting treatment dropped to 10,800 – 20% below 2019.
The NHS said it had tried to protect services – and some of the impacts was due to people not seeking treatment.
NHS England said a number of innovative approaches were being introduced to keep cancer care running.
This has included delivering more chemotherapy in the community and people's homes as well as creating "COVID-free" wings in the hospital to protect patients.
NHS England chief executive Sir Simon Stevens said staff had gone to "great lengths" to deliver care.
And he urged people to come forward for treatment amid concerns fear of the virus is deterring people from seeking help.
Figures for elsewhere in the UK have not been published yet.
Impact on patients 'extremely concerning'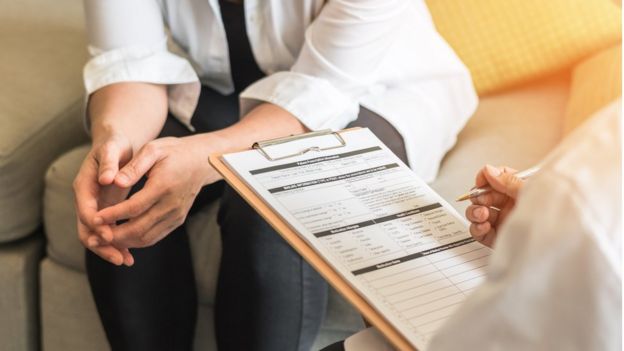 Charities warned the disruption to services would have a devastating effect.
As well as the drop in referrals and treatment start, Cancer Research UK
Thousands of patients have also seen their on-going treatment stopped.
Baroness Delyth Morgan, of Breast Cancer Now, said her charity has been deluged with calls from people worried about not getting treatment.
"It is extremely concerning," she said.
Lynda Thomas, of Macmillan Cancer Support, said the pandemic had "wreaked havoc" on services.
"Many people with cancer are being left to wait for the next steps in fear, worrying about the long-term implications for their health, their families, and their future."